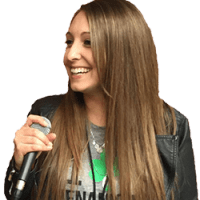 Middays 9a-2p   |   email Jessie
I graduated from VCU with a Bachelor's Degree in Broadcast Journalism
I have a dog named Bernie and a Cat named Rajah. I am an animal lover through and through. I have always rescued animals, in fact I make a weekly video with Richmond SPCA called "Playful Pet of the Week" to help get more homeless pets adopted.
I used to play guitar in high school… although I couldn't play you a single chord now.
I'm somewhat obsessed Netflix.
My go-to outfit is jeans and a T-shirt!
The Latest with Jessie

Each week we highlight a pet looking for it's forever home that is available for adoption at the Richmond SPCA. Check out this week's pet to see if they're a perfect fit for your home!  MEET BRICK HOUSE!