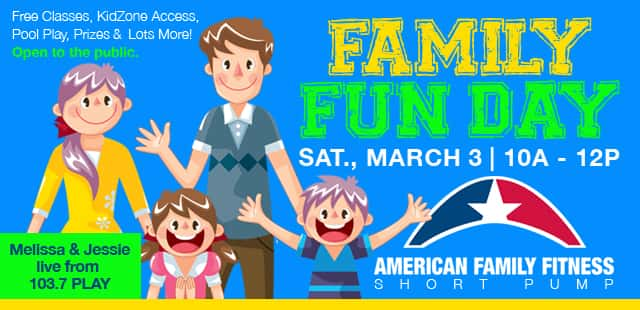 Join us this Saturday, March 3 at American Family Fitness Short Pump for a fun-filled day of classes, activities, and games for the whole family!
It's FREE and OPEN TO THE PUBLIC! Make sure you wear your workout shoes and bring a small towel and a water bottle.
Activity & Class Schedules:
FUSION (18+) * – Team Training using Heart Rate technology
Sign-up required. Limited space. Sign up here!
10:00am: Afterburn (FUSION training room)*
11:15am: Foundations (FUSION training room*)
12:30pm: Industrial Strength (FUSION training room)*
For session descriptions or to register for any of the above FUSION sessions, visit: https://form.jotform.com/Amfamfit/fusiondemo
Group Fitness Class Schedule (Family Friendly 9- 13 with participating parent)
10:30am: GROOVE® (GroupX Studio)
10:45am: Connect 45 (Cycle Studio)
11:30am: FIGHT® (GroupX Studio)
11:45am: Yin Yoga (Mind & Body Studio)
KidZone Activities (Meet in the KidZone)
Ages 1-4 Years Old:
10:00am: Arts and Craft
10:30am: Kidzercise
11:00am: Parachute Games
11:30am: Active Play
Ages 5-8 Years Old:
10:00am: Kids Bootcamp
10:30am: Soccer
11:00am: Dodgeball
11:30am: Sport Center
TWEENS & TEENS
Tweens (ages 9-13) – Meet at Tween Zone to participate in activities.
10:00am: Dodgeball
10:30am: Kids Strive
11:00am: Capture the Flag
11:30am: Kids Bootcamp
Teens (ages 14-17) – Meet in the Basketball Courts
10:30am: Dodgeball
11:30am: Kickball
12:30pm: Flag Football